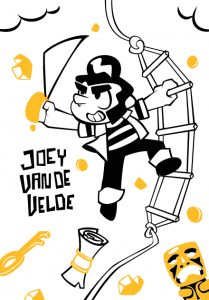 Ahoy, scurvy landlubbers! Welcome to our first official blog post. Though we have been very quiet until now, everyone here at Sky Pirate Studios has been working very hard to plunder the most excellent artisanal pixels to present to you in the form of our first game – Help! I'm Haunted.
So before we crack open our heads and feast all the gooey innards, I'd like to take the time to introduce myself in the first of our introduction blog posts.
I am your Captain, Joey. I do a lot of the level tiles and design, as well as other game design duties such as communing with ancient sea gods. They love video games.
My journey in this crew started when my co-worker Kevyn and I finished university and decided that we wanted create a pirate empire the world had never seen the likes of before. However, when we quickly realized this was impossible and possibly very illegal, we settled on starting an indie studio to make fun games that we can laugh at and have fun with.
Currently I'm drowning in a sea of pixels that run through each of our levels, all the while improving each enemy encounter and squashing levels bugs.

As you may be able to tell, my main influences for this project (and the level design therein) has primarily been the first three Castlevania games for the Nintendo Entertainment System. Those games just knew how to design encounters, and they had some damn fine background tiles.
Though I'd like to keep this introductory post short and sweet, I'd like to conclude by saying a big thank you for all the continued support from friends and family, as well as everyone who has been supporting us and our project. We'd like to thank Film Victoria especially for their support, as their funding has not only has greatly assisted with the marketing of Help! I'm Haunted, but has also given us a much needed moral boost. Now that things are really picking up for us we want communication with you guys to be much more consistent, so we're looking forward to showing off a lot more cool stuff that we've been working on very soon.
With that, I'm heading below deck to load up some cannons. Until next time!