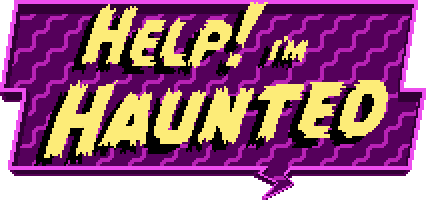 Are you BRAVE ENOUGH to bust the most
SPINE-CHILLING SPECTRES in NEOTRANSYLVANIA?
COMING SOON for PC, MAC iPHONE and iPAD
HELP! I'M HAUNTED

 is a spooktackular adventure of blue collar exorcism in Neo-Transylvania. Harry B. Spooked must battle beasts, bust specters and banish witches to rescue the city crumbling beneath him. Armed with an unlicensed arsenal, Harry must wield unholy magic to combat the otherworldly invaders. Help! I'm Haunted is the perfect Halloween treat; launching on iOS and PC in 2017.