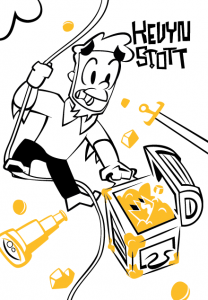 Good evening passengers, this is your Captain Kevyn speaking. Thank you for joining me for this introductory blog post.
The idea for Help! I'm Haunted was borne of the Large Hadron Collision of Pixel's Kero Blaster, the George and Jonathon track Sludge Mansion, and a healthy respect for the work of New York's Bravest; the Ghostbusters.
The plan was that by utilising my strength at pixel art, working at a small resolution and having a simple retro design we would be able to finish the game by Halloween (2 Halloweens have passed since then). It has been a long journey on a retrospectively very ambitious first project, but very soon you will be able to play it!
My work on Help! I'm Haunted includes art for characters, UI and effects as well as programming everything. While I've been doing pixel art since I was a kid, I'd only scripted a few small prototypes before this and after rolling up me sleeves and getting to work I've learned an incredible amount (although my tip to budding developers would be to start with something much smaller). Here! Look at some monsters that didn't make it in the game!
During this project I've been using handy pixel art program Pyxel to quickly draft designs and animations without having to deal with an elaborate animation editor. You just line your frames up next to each other in the grid and the animator will just play them in a row. It doesn't have a lot of indepth animation tools, holding different frames for different amounts of time for example, but what it lacked in that regard it definitely makes up for by being lightweight and convenient. I was almost always able to just copy from the canvas straight into a sprite atlas, making implementing animations quick and easy. Pyxel has become my go to pixel editor, usurping (I kid you not) Microsoft Paint, but Paint's secret strength is the same as Pyxels, it has all the essential tools I need without having to deal with lag or crashes from tools I might never use. Thanks Pyxel!
In the future I'll do some blog posts about mistakes we made during development, and something I focused on in Help! I'm Haunted; Game feel and microsecond to microsecond gameplay. Bye bye! I'm a pirate, bye!