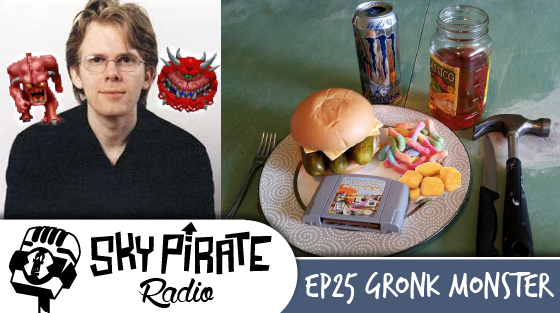 Podcast: Play in new window | Download
Subscribe: Apple Podcasts | Android | RSS
Without a Joey around to ground the proceedings, Jace, Kevyn and Max go hog wild broaching all types of TOO HOT FOR TV TOPICS, including Jace's mysterious rivalry with John Carmack, Max's consumption of malicious liquids and Kevyn's endless pursuit for a copy of Tai 3. Will these three narrative threads tie together in a freak coincedence the likes of which podcasting has ever seen? No, but the boys do uncover a secret related to Club Penguin and Julian Assange that is so revelatory, so MIND-BOGGLING that you'd be crazy NOT to believe it!
Also, they talk about some video games a bit, like Breath of the Wild, NieR Automata, and I guess Star Wars Battlefront? Again? Whatever. It's Sky Pirate Studios, here to make your 2017 have that sugar & spice it so desperately needed.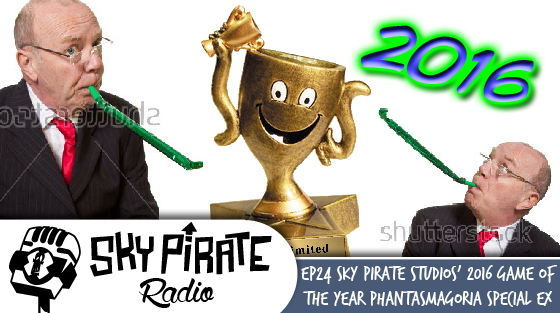 Podcast: Play in new window | Download
Subscribe: Apple Podcasts | Android | RSS
Only three-and-a-half months late, it's Sky Pirate Studios 2016 game of the year fiesta! At a feature length that would make Peter Jackson blush, the boys touch upon topics of utmost import, discussing the best water, food and 'tude in the games of 2016, jumping from sponsor-to-sponsor all the while. In the ultimate race against time, will those crazy Sky Pirate hooligans be able to get to announce their games of the year before all their sponsors drop out? How many times will Max mention Overwatch? Will Jace stop fidgeting with objects that are obviously being picked up on his microphone? Find out in our season finale that listeners have been calling "a podcast"!
SPOILER WARNING: We talk Last Guardian from 44:30 to 48:00. We provide ample warning, but keep your ears peeled! We also talk about spoilers for Castlevania: Lord of Shadow at some point, but I don't think you care about that really.
[THIS PODCAST HAS BEEN SPONSORED BY THE CORPORTATION FORMERLY KNOWN AS MAX'S ANT FARM(tm) – "THE ANTS WEREN'T BIG ENOUGH"]